[ad_1]

Posted on: June 04, 2021
With summer vacation approaching and restrictions related to the COVID-19 outbreak easing, families are ready to travel and spend time away from home once again. While some pet owners are comfortable leaving their furry friends at home with reputable boarders or trusted pet-sitters, others prefer to travel with their pets. 
Traveling with a pet can have its challenges but with some simple tips and tricks, taking off on an adventure with your dog or cat can be easier than you think. 
Tip 1: Make sure your pet is in tip-top travel shape. Consider a quick, pre-trip check-up with your veterinarian to ensure that your pet is in the proper health to travel. If needed, your vet may be able to recommend some medication to help ease the stress of travel.
Tip 2: Plan your lodging in advance. Not all hotels, Airbnb rentals, or vacation homes are pet-friendly, so make sure to inquire before you leave. Additionally, make sure that your pet wears proper identification, check that their microchip information is up-to-date, and have a copy of their medical records on hand while traveling.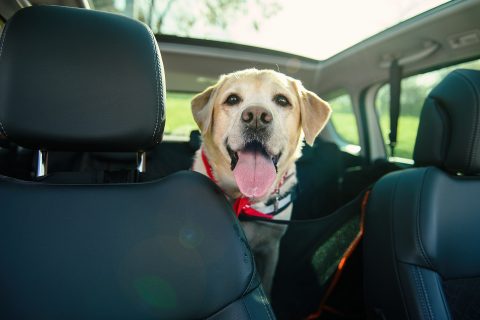 Tip 3: Prep your car with a pet first-aid kit. Hiking, heading to the lake, or going to the beach? Make sure you have all the necessary first-aid pet supplies ready to go in your car all summer long. In your pet first aid kit, include:  
Sting Relief Pads 

 

First Aid Tape 

 

Sterile Pads & Gauze Sponges 

 

Self-Adhering Nylon Bandage Wrap 

 

Antiseptic Towelettes 

 

Hydrogen Peroxide & 5 mL Syringe 

 

Tick Remover 

 

Styptic Pencil 

 

Emergency Blanket 

 

Pet Brush 

 

Benadryl (as advised by a veterinarian) 
Tip 4: Pack appropriately for your pet. Make sure that in addition to your essentials, you bring along the right accessories for your four-legged companions. In their suitcase,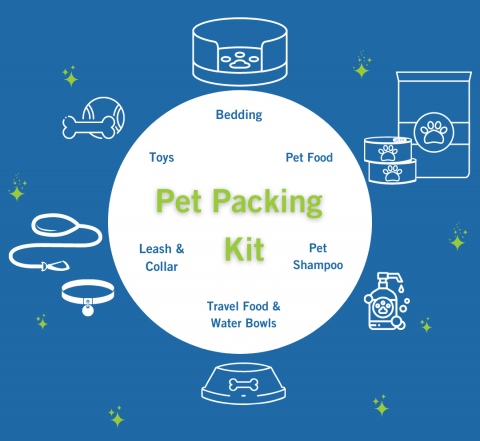 include:  
Travel food & water bowls 

 

Enough pet food and treats for the time away 

 

Toys for playtime 

 

Collar/Harness with all appropriate tags and a non-retractable leash 

 

Pet shampoo in case your pet needs bathing

Comfortable Bedding
Tip 5: Provide the proper car supplies & space for your pets. Does your dog or cat prefer to travel in a carrier or with a pet seat belt? Make sure you have all the needed supplies to ensure a safe and easy car ride. Most pet car accessories can be ordered via Amazon. Don't forget to shop via Amazon Smile and set HSC as your beneficiary! Seat dividers are also great for enthusiastic pets who want to ride in the front seat. Don't forget to leave your pet plenty of space when packing the car. No one likes to squeeze in between suitcases for hours, our furry friends included.
Tip 6: Plan frequent stops & playtime. Make stops when possible to allow your pet to safely stretch their legs, expend some of their pent-up energy, and go potty. Planning pet-accessible stops can help you keep your pet comfortable and calm in the car, making your trip that much easier. When in doubt, bring toys and tennis balls and look for local dog parks for a quick road-trip pitstop. Some state rest stops may even have a dog-friendly area on site!
Tip 7: Never, ever leave your pet in the car. The Humane Society of Charlotte urges pet-owners to understand that leaving your pet in the car is a no-no, no matter what season it is, however it's incredibly important to be aware of this during the summer. Cars get hot quickly, rising to temperatures well above the temperature outside, and leaving the window cracked or the AC on just doesn't cut it.
Now that you know what to do before vacation and what to keep in your car all summer long, head out on an exciting adventure with your best buddy! 
[ad_2]

Source link