Posted on: September 27, 2021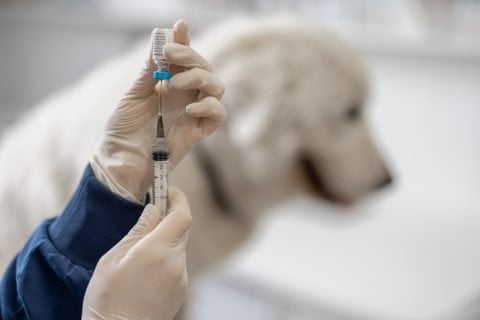 September 28 is World Rabies Day, a global health observance started to raise awareness about rabies and bring together partners to enhance prevention and control efforts worldwide. The Humane Society of Charlotte is doing our part in preventing rabies cases in our community by encouraging dog and cat owners to have their pets vaccinated at HSC's Essential Care Wellness Clinic.
Keep Your Pet's Vaccinations Up to Date
The rabies vaccination is considered a "core" vaccine and is the only companion animal vaccine that is required by law in most states. The Humane Society of Charlotte is committed to increasing access to affordable veterinary care and making these required vaccines as easy to get as possible with daily appointments. Vaccinations start as low as $10.
$10: 1-Year Rabies Vaccine
$25: 3-Year Rabies Vaccine (must have proof of prior rabies vaccination)
Know the Signs
If you know the signs of animals that may be infected with rabies, it's easier to avoid contact with them. Animals that may have an active rabies infection typically appear in 2 forms.
Classic Encephalitic (Furious) Form: Animals may appear excessively agitated, even to the point of biting or snapping at imaginary and/or real objects. Some animals drool excessively, avoid water (hydrophobia), and at times can be seen mutilating themselves.
Paralytic (Dumb) Form: Animals may appear uncharacteristically tame and seem to have no fear of humans. Animals may also appear excessively wobbly and exhibit circling behaviors. They may act partially paralyzed or disorientated.
Some of these individual signs can be indicative of other diseases or poisoning, so use caution. There are few behavioral signs that are telltale of rabies alone.
Always Supervise Pets in Wilderness Areas
Spending time outdoors with your pets is excellent for their overall health, but supervising their activities, especially in wilderness areas while camping or hiking is vital to prevent accidental rabies exposure.
Vaccinated pets are extremely well protected, but it's important to follow these tips.
Leave wildlife alone. Don't allow your pet to get too close.
Stay on marked trails. Typically wildlife will avoid high traffic areas with humans.
If there has been a sighting of a suspicious animal, avoid the area entirely.
If you suspect an animal in your area could be infected with rabies, seek advice from your local animal control or state wildlife agency.
The Humane Society of Charlotte's Community Outreach team is offering free pet vaccinations this Saturday, October 2 during our Fall Vaccine Clinic, generously supported by JDP Charitable Fund. Available vaccinations including rabies for both dogs and cats. Appointments are required. Email the HSC Community Outreach team to reserve your appointment today! Limited space is available.